Our Company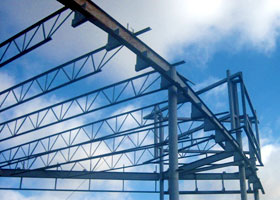 Our Projects
Our offices are conducive to teamwork and include access to printers, plotters and other necessary equipment.
We offer a full range of structural steel design services. Our project work ranges from industrial structural process buildings to light commercial buildings. Our main focus is on the following types of projects:
Commercial Buildings
Industrial Buildings
Institutional Buildings
Multi-Story office Buildings
Renovations and Reinforcing
Excellence in Structural Steel Detailing
In business since 2001, Domoslai Designs Ltd. is a growing company that prides itself on meeting and exceeding the expectations of its clients. We have the capability to handle small (including miscellaneous) work up to large projects in the public, commercial and industrial sectors.

Domoslai Designs Ltd. uses Tekla Structures (X-steel) software, and has nine in-house licences. We are meticulous in our drawing accuracy, and diligent with the presentation of assembly drawings. X-steel also gives us the ability to provide material lists, Fabtrol reports and CNC outputs to increase your productivity.

Our dedicated, enthusiastic team is sensitive to construction schedules and timelines, and have the flexibility to meet challenging deadlines. Drawings can be couriered, e-mailed, or accessed via an FTP account.
We look forward to working with you.
Call us today! 403-236-8654